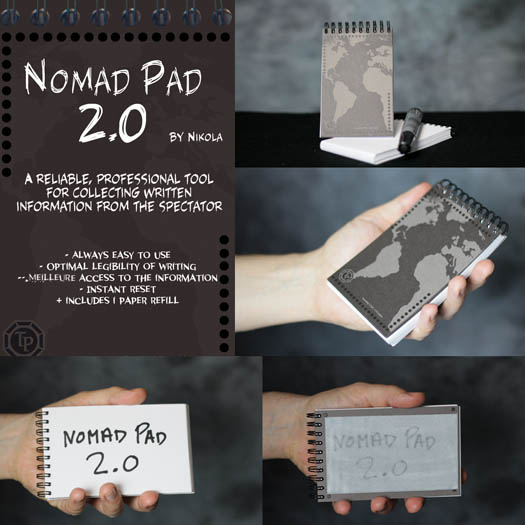 The Nomad Pad 2.0
(The Nomad Pad 2.0, The nomad pen 2.0, The refill and the instructions)
120$
Four years after the successful launch of Nomad Pad... Presenting the next generation. We have worked with Nikola since the Nomad Pad was brought to the market, taking on board user feedback to correct the imperfections of the old version. Discover the result of this work with Nomad Pad 2.0
You'll enjoy:
- its ease of use
- the pocket size of the notebook
- the reset integrated into the stylet
- immediate access to the information
- a paper refill included in the pack

You'll discover:
- new, more direct handling.
- a slightly different size (+1 cm) to achieve a PERFECT width/length proportion (based on the Golden Ratio)
- Better legibility of writing with a new, more precise plate
- A better light gray/dark gray contrast (in the new plate) for use in all lighting conditions.
- A 30% larger writing surface for the spectator
- Anodized magnets integrated into the notebook design (therefore practically invisible)
- More pages for a greater number of performances.
- A special website for paper refills at low prices.
Included in the Nomad Pad 2.0:
A Nomad Pad, a stylet, a paper refill and a link to a private website where you can download the instructions.
Le Nomad Pad 2.0
(Le Carnet, le stylo, la recharge de papier et la notice)
100€ TTC
Le Nomad Pad 2.0
(Le Carnet, le stylo, la recharge de papier et la notice)